I can't find any parking spots!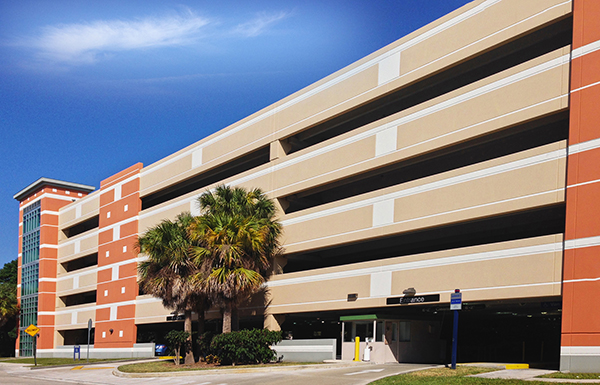 The Beginning of a New Semester!
The beginning of a new semester or academic year brings with it the challenge of finding the perfect parking spot.  Everything takes a little longer on campus during the first weeks of a new semester!  Take comfort that after a few weeks the hectic search will stabilize as students and faculty get used to the schedules, routines and the locations that are available at different times during the day.

Follow Us.
During the first few weeks of each semester we try to live tweet as the garages and lots fill.  Throughout the year we also try to retweet any local traffic issues that might affect our Owls.

Digital Counter and Signs.
Watch for signs on the front of the garages and DO NOT PULL IN IF THE SIGN SAYS FULL.  Garage 3 (by the stadium) has a digital counter that shows available spaces.  The digital counter can also be viewed on our website.

Alternate Entrances.

There are 5 entrances to FAU.
Three (3) entrances off Glades Rd.
Spanish River through the Research Center
The 20th Street entrance from Federal Hwy (between Glades and Spanish River).

Allow extra time.
Surprisingly there really is plenty of parking spots on campus.  However, they cannot all be right next to our classes, therefore everyone must allow extra time to walk or take a shuttle from the outer lots.
Adjusting your arrival time on campus may make a difference in the competition you face for a parking space.

Know your options.    
As with all large Universities, everyone wants to park in the central campus lots.  Keep in mind that these lots (Lots 1, 4, 7, 16, 25, 28) usually fill first.  If you are arriving after 8am it will be an exercise in futility to drive around trying to get one of these spots.
Each semester is a little different, however historically Tuesdays and Thursdays are the busiest days.  The parking garages are usually full by 11:00 at the latest.  So if you are arriving on campus after that time it is usually wise to head to the outer lots. (Lots 5, 12, 13). 
Familiarize yourself with the map, so you know where to find the outer lots when you need them.  It takes far less time to walk from Lot 5, then it does to drive aimlessly around in traffic looking for a lucky spot.

Park once.
This is good advice no matter what time of year. If you need to be at various locations on campus throughout the day, leave your car where you parked it and either walk or jump on Owl Express to get there. It's also good for the environment. (Possibly your waistline too 😉 )

Make sure you know the Parking Rules.
Make sure your permit is active and up to date.  Click Here to find how to order your permit!
Take a moment to read the rules and regulations.
Following these simple parking rules can save you the frustration and costs associated with receiving parking citations.
Let Parking & Transportation help if we can.
Our Customer Service staff is available via email faupark@fau.edu or by phone 561-297-2771 to answer questions and help solve problems.