The trouble with living on an Island and having a good deal of access to the sea is that you often find yourself staring across the water wondering what's really out there. I've always encouraged my girls (twins, now aged 23) to travel, telling them stories when they were small of my trips to India, Australia, Europe and much of America (I'm from the UK).  I got the travel bug from my father, who was adventurous and who always took our family on some wonderful holidays.  I remember one trip to Romania when I was 7, and my mother leaving her nylon stockings to the hotel staff as they couldn't buy such exotic items there in the early 1970s.  In 1979, my dad eventually persuaded my mum to travel to America! None of their friends or family had ever ventured that far afield, most just doing the typical holidays to seaside towns within the UK or, for the more daring, the coast of Spain.
My dad worked in Fleet Street, London for the Evening News newspaper and one evening they had a supplement in there about house swapping all over the world!  After writing to many families from far flung reaches of the globe, he finally wrote to Bob. Bob and Sandra Weigle lived in Orange County, Los Angeles and after 6 months of writing back and forth (no emails in those days), we jetted off on Laker Airlines and made the 14-hour trip to Los Angeles.
We had decided we would not only swap houses and cars for the summer of '79 but also stay with Bob, Sandra and their two daughters – who were close in age to my sister and me – for the first week and get to know them better.  "WOW" was my first impression when we arrived at their house. There was so much space compared to our 1920's London 3-bedroom house. I think their kitchen was bigger than the whole of our ground floor! They had a microwave oven and a video recorder. All the mod cons English families wouldn't get for a few years yet!
On arrival, the neighbors threw us a big house warming party. Amongst the guests was the cousin of Ritchie Valens, and a man who worked for NASA and had worked on the space mission team to the moon, and of course a few Hollywood script writers, including Bob!
So having followed in my father's footsteps, taking my daughters on lots of trips and encouraging them to travel when they were younger, it shouldn't have surprised me when last year the girls ventured out and trekked across the Mongolian steppe on horseback. Of course, I was worried but at least they were together.
They made it back safely, with only a few bruises and an entirely new taste for adventure. Then, this year, Jo, my eldest twin, announced she was going off to South East Asia on her own! What could I say!  I know she is streetwise and strong, and being a keen kick boxer could handle herself. So March 2016 comes around and off she goes.
Having recently graduated in Zoology, Jo is a keen conservationist and headed to Vietnam to work with the organization Save Vietnam's Wildlife, and the ever elusive Pangolin. "What?", you may ask, just as I did.  Well, Asian pangolins are like small anteaters and are hunted illegally for their meat and scales that are made into Chinese medicine with the belief that they have properties that will cure cancer and help breast-feeding mothers!  Jo writes regularly and has her own website – SKIN and BONES – if you want to find out more about pangolins and other endangered species. It's quite an interesting read and she would love more people to add their comments. http://www.skinandbones.info/
Once Jo had finished in Vietnam, she moved on to Cambodia to sightsee and work with Sun Bears. From there, she went for a well-earned rest at Vagabond Temple yoga retreat, where she called me late one night from suffering from big skin blisters which she was very concerned about! After a tearful conversation and a heart-wrenching decision to put her Australian part of the trip on hold, I managed to persuade her to fly home and get urgent medical advice and treatment, as the nearest hospital was a 6-hour bus trip away from where Jo was.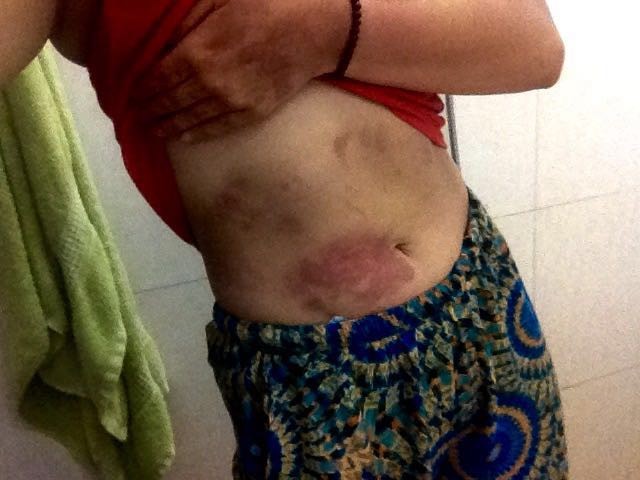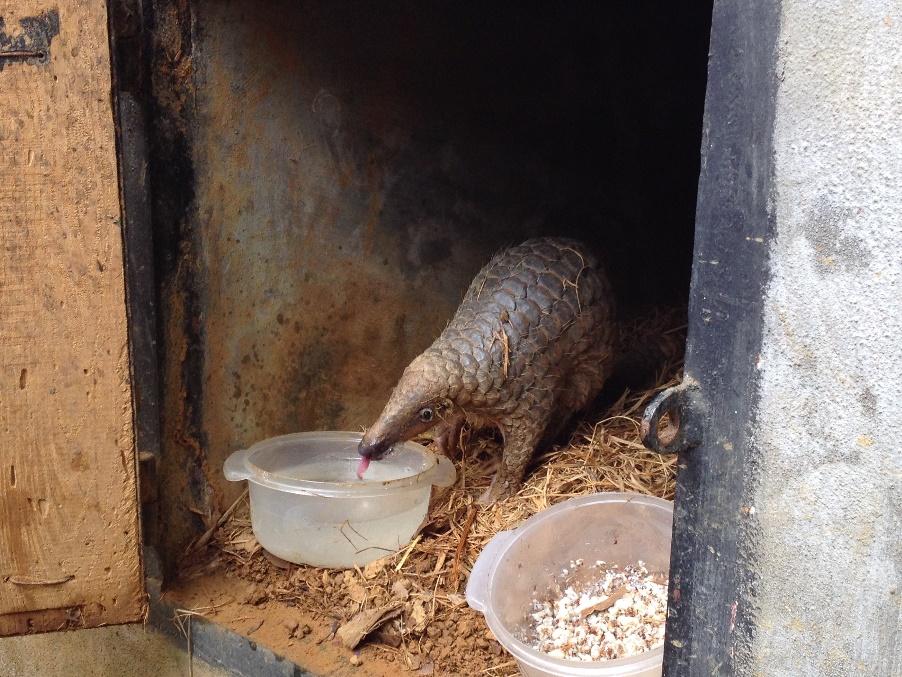 I booked her on the next flight back to the UK and the next morning she went straight to the doctor who, thinking it was an auto-immune disease, put her on antibiotics and sent her for an emergency dermatology appointment. As it turns out, it was Phytophotodermatitis, also known as "lime disease, a chemical reaction which makes skin hypersensitive to ultraviolet light when handling certain plants or fruits." I am happy to report that her scarring is almost all gone now, but it is useful information to know, especially living in a hot place such as South Florida.
Not one to sit about for too long, Jo, feeling recovered, then went off to a week-long conference called Conservation Asia held in Singapore.  After that, she met up with her father and sister for an amazing trip around Indonesia.  After living under the stars and on a boat for a few days, trekking up volcanoes, meeting the local monkeys and swimming with wild Manta Rays, the hotel comforts were much appreciated.
As soon as she was back in the UK, she was off again, this time to South Africa where Jo was honored to have been chosen earlier this year by the International Fund for Animal Welfare (IFAW) based in Massachusetts, as a Young Conservationist to travel to Johannesburg to be part of their Youth Forum where she met the 33 other delegates chosen for this event from all over the globe. The forum took place the week before CITES (the Convention on International Trade in Endangered Species of Wild Fauna and Flora), where, this year, international laws were passed protecting all eight species of pangolin and other endangered species threatened by wildlife trafficking.
The inspiring work these young conservationists do all over the world ranges from saving helmeted hornbills in Indonesia to protecting public lands in the USA and research on saiga antelopes in Uzbekistan.   In South Africa, together they discussed and developed innovative solutions to the problems faced by the world's wildlife and local communities that live with them, as well as spotting the odd rhino in Pilanesberg National Park. There is no stopping them now as, since the forum, they have started their own organization called 'Youth for Wildlife Conservation' aimed to promote best conservation practices and support youth-led environmental conservation projects.
http://www.youthforwildlife.org/
Please take a few moments to watch this Video of the group in South Africa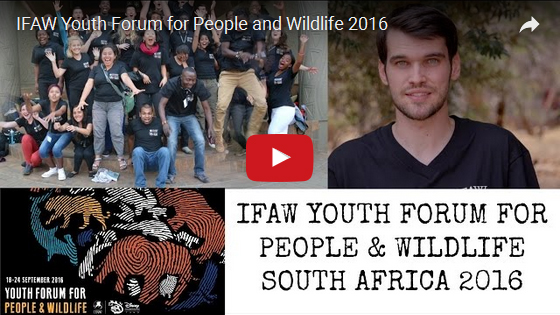 Jo is off to Mexico next for the Convention of Biological Diversity to spread the word far and wide about 'Youth for Wildlife Conservation' and the need to engage youth in international conservation policy and decision making.
I don't know what the future has in store for Jo but I certainly know it won't be boring!