By Sandi Page, Guest Blogger, LLS Student, Volunteer and Member of the LLS Jupiter Marketing Committee
Books! I love the feel of them, the smell of them. I need to be reading five or six books at the same time. My bookshelves are overflowing. A memorable day when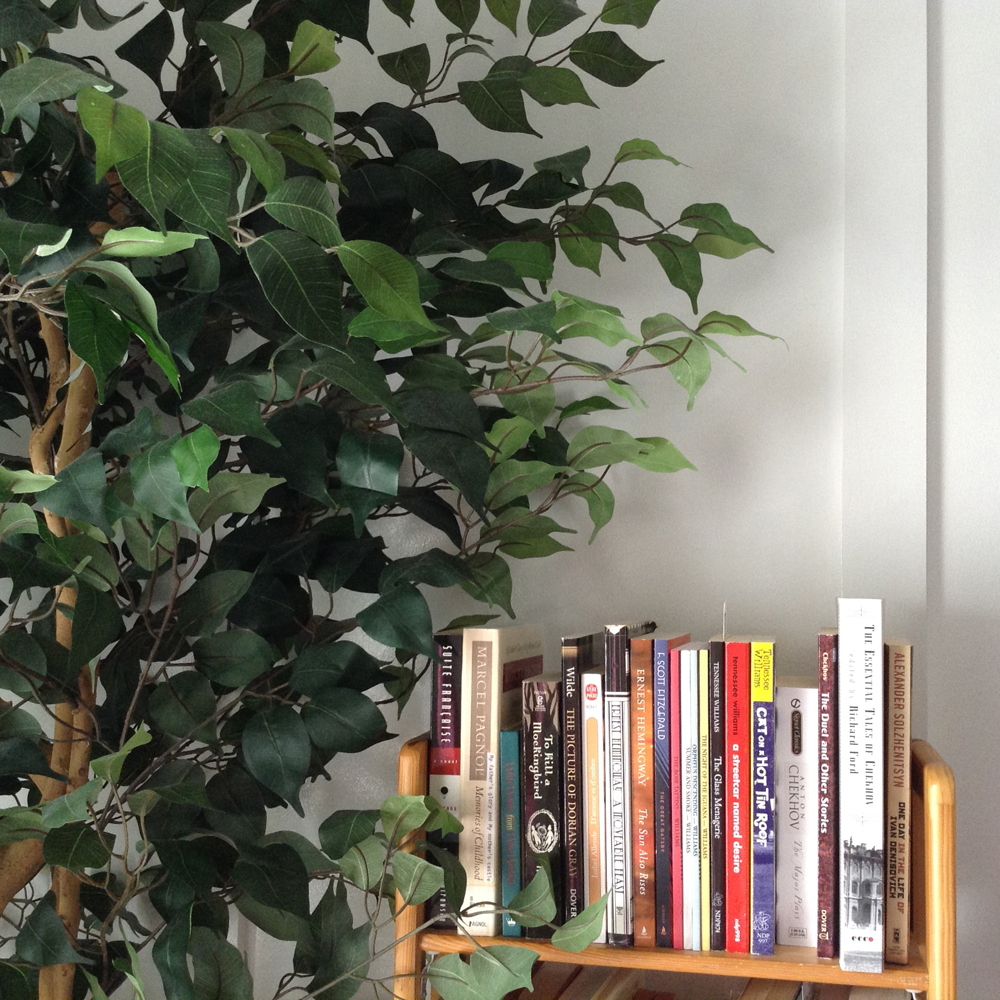 I was 4 years old was the day I was able to write my name legibly, a requirement for being issued my own library card. The thrill of it, the pride, the freedom! It's been a lifelong love affair ever since. The only difficulty is finding enough time to read, and reread, all the books that interest me or are dear to me.  So, I thought it would be fun to ask some LLS students, staff and faculty the following question: "If you were to be stranded on a desert island for five years, what books currently on your bookshelves would you want with you?" Judging from the enthusiastic replies, there are many, many bibliophiles in our LLS population! All agreed it would be difficult to have to limit their choices!
Here is my list (although I mourn already the ones left behind):
My Reading Life (with a fervent desire to also bring all the books referenced in this beautifully written work), by Pat Conroy; Beach Music, by Pat Conroy; A la Recherche du Temps Perdu (French and English versions), by Marcel Proust; Fables de la Fontaine; D'Aulaires' Book of Greek Myths, Tai Chi for Beginners, by Dr. Paul Lam; The Lyrics of Leonard Cohen;  A Moveable Feast, by Ernest Hemingway; David McCullough's The Greater Journey – Americans in Paris; Sy Safransky's A Bell Ringing in the Empty Sky – The Best of the Sun; Travels with Epicurus, by Daniel Klein; Archy and Mehitabel, by Don Marquis; The Piano Shop on the Left Bank, by Thad Carhart; Eleni, by Nicholas Gage; Anna Karenina, by Leo Tolstoy; Chips off the Old Benchley, by Robert Benchley; Turner to Cezanne, Masterpieces from the Davies Collection, National Museum Wales; Quelque part dans l'inachevé, by Vladimir Jankélévitch and Béatrice Berlowitz; Le Petit Prince, by Antoine de Saint-Exupery; Shakespeare's Complete Works, The Dictionary of the Opera, by Charles Osborne; C. P. Cavafy Collected Poems, edited by George Savidis; Letters to a Young Poet, by Rainier Maria Rilke; The Essential Neruda – Selected Poems (bilingual); An Anthology of Modern Italian Poetry (bilingual), edited by Ned Condini; An Anthology of Twentieth Century Brazilian Poetry (bilingual), edited by Elizabeth Bishop/Emanuel Brasil; Seventy Poems by Wislawa Szymborska (bilingual), edited by Magnus Krybski/Robert Maguire; for guaranteed laughs every day, the three books of poems by Francesco Marciuliano "written" by dogs, cats and kittens; and, most importantly, my collection of language learning books (Italian, Spanish, French, Portuguese, Modern Greek, Latin) with accompanying dictionaries plus lots of notebooks. I think the five years would pass by quickly with these wonderful literary and study companions in tow!
Now read on to see what books your LLS friends would want with them on a desert island!
René Friedman (LLS Jupiter Founder)
There are so many books I think I should take but I would sink before getting to the island!
However, if I were stranded on a desert island for five years, here are some I would want with me:
Books on survival, as I would not make it five years without them….how to make wood tools, how to start a fire for cooking, what I could digest, how to catch fish, etc.;
My mindfulness book to keep me in the moment and relieve my stress, maybe Wherever You Go, There You Are, by Jon Kabat-Zinn;
Perhaps The Swiss Family Robinson, Robinson Crusoe and Life of Pi, all of which I haven't read in a very long time (plus I would be able to relate to the experiences);
I have always felt badly that I never read the Harry Potter books, so, on the island, I could finally settle down and read them (my grandsons would be proud of me);
Oh yes, The Little Prince;
And not sure which one, but one love story with a happy ending.
Dr. Benito Rakower (LLS Faculty)
I hope the ones I chose find merit with LLS members.
1) The Red and the Black, by Stendhal;
2} All of Shakespeare's comedies and none of his tragedies;
3} The Psalms of David;
4) Tender is the Night, by F. Scott Fitzgerald;
5) Moby Dick, by Herman Melville;
6) Great Expectations, by Charles Dickens
Ginny Higgins
I read a lot so 5 years would actually require much more than the following list of books!
Let's start with almost all of Shakespeare, War and Peace, by Leo Tolstoy; Animal Farm, by George Orwell; The Lord of the Rings trilogy, by J.R.R. Tolkien; Maus, by Art Spiegelman; The Prophet, by Kahlil Gibran; The Eight, by Katherine Neville; The Chalice and the Blade, by Riane Eisler; The Selected Works of T.S. Spivet, by Reif Larsen; The Harry Potter series, by J.K. Rowling; Room, by Emma Donoghue; The Book Thief, by Markus Zusak; The Kite Runner, by Khaled Hosseini; How We Die, by Sherwin Nuland; To Kill a Mockingbird, by Harper Lee; all of Mark Twain's books; The Day the Crayons Quit, by Drew Daywalt; The Ultimate Encyclopedia of Mythology, by Arthur Cotterell/Rachel Storm; the Iliad and the Odyssey; the Magic Eye books, all of Charles Dickens; The Art of War, by Sun Tsu; The Divine Comedy, by Dante; all of Karen Armstrong's books, Iain Pears books, and the 10 books of civilization by Will and Ariel Durant.
John Klein
The Last Lion, Vols. 1-3, by William Manchester
Invisible Man, by Ralph Ellison
Cloud Atlas, by David Mitchell
Sonnets, by Shakespeare
My Struggle, Vols. 1-4, Karl Ove Knausgaard
Personal History, by Katharine Graham
War & Peace, Leo Tolstoy
Sapiens, by Yuval Noah Harari
Lonesome Dove, by Larry McMurtry
Cold Mountain, by Charles Frazier
Catch-22, by Joseph Heller
The Grapes of Wrath, by John Steinbeck
Poems of Emily Dickinson, by Emily Dickinson
Yvonne Peters
Three From Catfish Bend, by Ben Lucien Burman;
Jonathan Livingston Seagull, by Richard Bach;
The Art of Living, by Sharon Lebell;
The Republic of Plato
Paul Brown
Entertainment – The entire Stuart Woods series with Stone Barrington and the entire Lee Child series with Jack Reacher
Health – The Merck Manual
Survival – A book of matches!
Humor – Entire works of Calvin and Hobbes
Andrea Palmer
If I were stranded on a desert island, I would want a comfortable chair and the following books from my library:
All of the Great Books Series;
All of the Great Conversations Series;
All of J. M. Coetzee novels;
The Complete Essays of Montaigne;
The Second Sex, by Simone de Beauvoir;
Ulysses, by James Joyce;
Bleak House, by Dickens;
The Fabric of the Cosmos, by Brian Greene;
An American Tragedy, by Dreiser;
Compilations of short stories, by Alice Munro and Chekhov;
The Hidden Reality, by Brian Greene;
Seven Brief Lessons on Physics, by Carlo Rovelli;
Sapiens, by Harari;
Power Wars, by Charlie Savage;
Hamilton, by Ron Chernow
and a whole bunch of funny books that I have yet to purchase!
Barbara DePalma
Shantaram, by Gregory David Roberts;
Lord of the Rings, by J.R.R. Tolkien;
All the Light You Cannot See, by Anthony Doerr;
Sarum: The Novel of England, by Edward Rutherford;
Buffalo Afternoon, by Susan Fromberg Schaeffer
Judi Ross (LLS Staff)
The books I would take would be Shakespeare, all the novels of Gabriel Garcia Marquez, Willa Cather, Louise Erdrich, David McCullough, Agatha Christie, Ruth Rendell, Maurice Mauriac, Tolstoy, Dostoyevsky, Flaubert, Sigrid Unset, Sholem Aleichem, Balzac, Dickens, Hardy, O'Neill, Poe, Twain, Werfel, Zola, Mann, Kafka and Maugham. For poetry: Heine, Gibran, the Brownings, Frost, Wordsworth, Dante, Whitman.
Emily Morton, (LLS Staff)
To Kill a Mockingbird, by Harper Lee; The Alchemist, by Paulo Coelho; Animal Farm, by George Orwell; The Good Earth, by Pearl S. Buck; Fahrenheit 451, by Ray Bradbury; Of Mice and Men, by John Steinbeck; Adventures of Huckleberry Finn, by Mark Twain; The Secret Life of Bees, by Sue Monk Kidd and finally, the Lovely Bones, by Alice Sebold. To Kill a Mockingbird will always be my favorite book because my father read it to me when I was very young and it felt like time travel, going back to Maycomb, Alabama in the 1930s.  I just fell in love with the characters in that book and I really identified with Miss Scout Finch.