Osher Lifelong Learning Institute students are my favorite students.  Our goal with Dramawise classes at OLLI Jupiter is to unlock the mysteries of performance literature, to examine the story arc and characters for universality, and to discover how a play, no matter when it was written, might still speak to humanity today.  PBD prides itself on presenting the best dramas possible, with the best designers and actors. We extend that passion to Dramawise, examining all facets of our season productions. The Dramawise class is an opportunity to learn and express insight into not only the story itself, but how the story might shed light on who we are as human beings. Storytelling is the core of humanity, and good literature holds a mirror up to society. I am constantly amazed by OLLI students and their astute observations about the play's conflict and character relationships.  OLLI students are well-educated and eager to learn as much as possible about the play, the playwright, and the universal connections the play makes, while bringing their own real-world experiences to the discussion.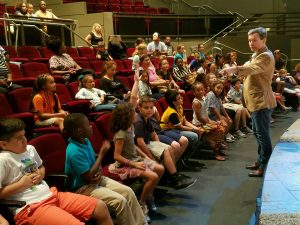 For this season, I am excited about all of our productions, but I'm most excited about two productions, Tennessee Williams's A Streetcar Named Desire, and the musical A Light in the Piazza. Streetcar is one of the penultimate classics of the 20th century and important in the pantheon of great American literature.  There is so much to unpack in this play: class, culture, and power, to start.  A Light in the Piazza is probably on the most underrated musicals of the last 15 years.  While it won 6 Tony Awards, it is rarely produced due to its challenging score.  I look forward to discussing with OLLI students both the story (based on the novella by Elizabeth Spencer) and the dazzling music. Even more interesting is the fascinating life of Piazza's composer Adam Guettel, grandson of musical legend Richard Rodgers and son of Mary Rodgers, who wrote Once Upon a Mattress.  I think our Dramawise discussions will be vibrant!
I look forward to my return to OLLI Jupiter this season and sharing insights and conversation with knowledge-driven students!
---
Be sure to check out Dramawise's "A Streetcar Named Desire" on Wednesday, October 16 at 2:15 p.m.  Tickets are $20/member; $20/non-member.