This fall semester Minx Boren, M.C.C., will present a four-week course titled "Your Memories, Wisdom and Blessings," on Tuesdays beginning November 12 at 2:15 p.m. Minx is a Master Certified Coach Credentialed through the International Coach Federation. She is a lifelong journal-keeper, author of four books of poetry, co-author of eight books for women and has had two books published by Blue Mountain Arts: "Healing Is a Journey" and "Friendship Is a Journey." Since 1994, she has been designing, developing and facilitating innovative programs that support health and balance, reflection and achievement. Minx shared with us the things that inspire her and why she wanted to share her expertise in journaling with OLLI members. We are excited to have Minx teach for us this semester, and we look forward to upcoming lectures and courses in the future.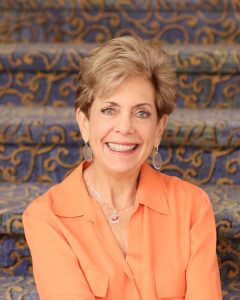 Minx Boren, M.C.C.What attracted you to teach for OLLI at FAU?
I have been taking classes – in music, politics, literature, art and so much more- at Lifelong Learning since it first opened. I want to be able to contribute to this wonderful initiative that supports and enriches the lives of so many.
What inspires you?
Human initiative and ingenuity and creativity and determination all inspire me. In the midst of all too many doom and gloom concerns about the state of the world, what gives me hope every day are the millions of possibilities, many in the infinite realms of what we don't yet even know we don't know, that might yet be possible.
To Date, what Professional Achievement are you most proud of?
There are three that tie for first place: serving on the Board of Directors of the Women's Foundation of Florida since 2007. Being a 2013 recipient of the Giraffe Award – presented by the Women's Chamber of Commerce to women who "stick their neck out for others." Serving as president of Executive Women of the Palm Beaches in 2013-14.
What do you think students will enjoy most about your topic?
As we grow older, our lives become more and more rich with experience, memories, wisdom, and blessings. Taking the time to name and reflect upon the fullness of our years can shift our outlook about past, present, and future to a more abundantly gratifying (and useful) perspective.
Minx Boren will be teaching a 4-week course "Your Memories, Wisdom and Blessings: Chronicling Life Moments" starting Thursday, November 12 at 2:15 p.m.  Registration is limited to 30 students so please register early.